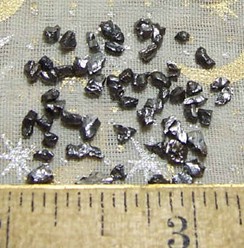 Nantan Meteorite Stones
Meteorite Nantan Meteorite from China, these are tiny.
It is a Iron Meteorite, on average the composition is 92.35% Iron, 6.96% Nickel with minor amounts of Carbon, Copper, Cobalt, Sulfur, Phosphorus, Cromium, Gallenium, Germanium, and many different trace elements. The are a number of scarce minerals that may be found in it, including Kamacite, Taenite, Plessite, Scheribersite, Triolite, Graphite, Spherlite, Sideroferrite, Dyslytite, Cliftonite and/or Lawrencite.

These meteorites are from a rare witnessed fall event. The impact occurred in May of 1516, in Nantan, China, then in 1958 local farmers collected them when China was in need of steel to push the country "Great Leap Forward" advocated by Mao Zetung. They have a coarse octahedral structure.
$45.99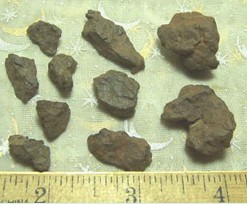 Meteorites from Northwest Africa
Meteorite from Northwest Africa of undetermined mineral content.
Meteorite - They originate in outer space, from the heads of comets, the asteroid belt, from Mars and from the Moon. - They are considered sacred and is esteemed in some cultures around the world. It represents the energy of other worlds and can allow one to access this energy. It can bring us the loving energy of unknown cultures to us on Earth. It can give us a sense of trust which allows for great flexibility during commerce and relationships. They can help unlock their uniqueness as they attune to Earth and keeper energies. They can be helpful during meditation and while meditating with a Meteorite visions and information may be given that does not fit with our human existence, seemingly otherworldly in content and enlightened in feeling.

Small $25.99
Medium $41.99
Large $63.99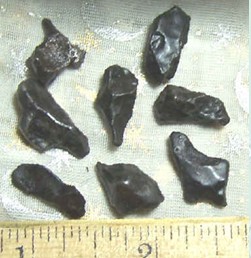 Sikhote-Alin Meteorites

These are nice, hand selected, examples of the Sikhote-Alin meteorites.
Sikhote-Alin Meteorite, Maritime Territory, former USSR, Nickel-Iron Meteorite, Coarsest Octahedrite. These meteorites are from a rare actual witnessed fall. On February 12, 1947 people in eastern Siberia witnessed the largest single meteorite fall. Over 23 tons of material showered the area. This meteorite displays regmaglypts, thumbprint like depressions and has ragged, twisted and distorted surfaces. This occurred because the meteorite broke up at a rather low altitude and was not subjected to the intense ablation (means removal of material from the surface of an object by vaporization, chipping, or other erosive processes) that would have smoothed its surface.
$76.99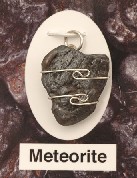 $75.00
Nantan Meteorite Wire Wrapped Pendants
Size of this pendant can vary between 25 to 35 mm at the longest point. This is a natural object and sizes and character can differ marginally from the photo, although quality is always constant. The wire wrap that the pendant is mounted within is sterling silver. A chain is not included with this pendant.

Sikhote-Alin Meteorite specimen 57 grams. $220.00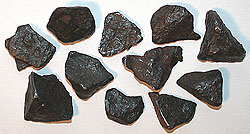 Gibeon Meteorite specimens from Namibia, Africa. About 1/2" in size and approx. 1-4 grams. $75 each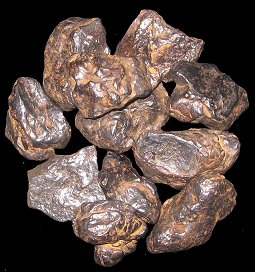 Nantan Meteorite Natural Pieces
$6.00 Per Gram
15 to 45 grams each
Minimum $90.00 For 15 Grams
$6.00 For Each Additional Gram
Meteorite Gem Essence
1/2 Ounce Bottle With Dropper
$29.95 Made in USA
(May contain Brandy as a preservative, let us know if you want a substitute)
Meteorite Gem Elixir
1 Ounce Bottle With Dropper
$45.00 Imported
(May contain Brandy as a preservative, let us know if you want a substitute)
Make a Meteorite pendant using
$10.00
Custom made

Meteorite pendant , choose your findings

$35.00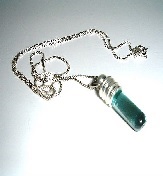 On our

Custom Glass Vial Pendants, Choose Stones For Container page, you will find vials you can put your crystals into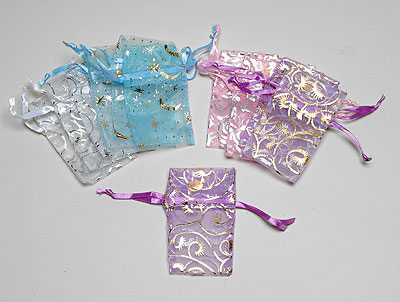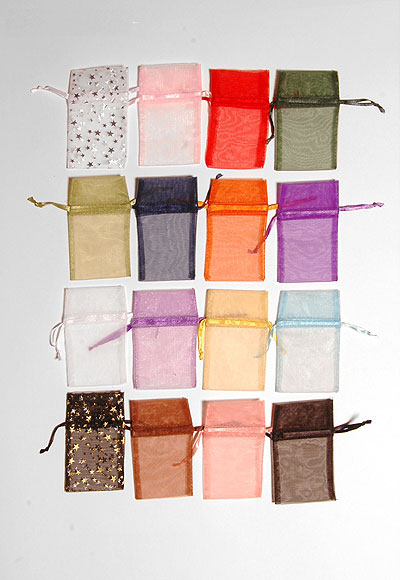 Organza Bags allow the crystal energy to come through, in combination with the corresponding chakra color, you will be able to wear this on a ribbon, chain or other.
Wear A Crystal Or Stone In An Organza Pouch As A Pendant
Choose Your Color Of Organza Bag
$3.00
1 3/4W x 2H
Special Order Meteorite Item, don't see it here, let us look for you
Healing uses for Gold based on the beliefs of the New Age include the treatment of blood, skin, neurological and heart disorders. They believe Gold to be an energy generator and remover of blockages with the power to strengthen, amplify and conduct energy in the body for the treatment of autism, dyslexia, epilepsy and scoliosis. Medical uses based on science have included the treatment of Arthritis, dental fixtures, and more.
Silver is believed to benefit circulation, help lungs and throat, and detoxify the blood, to aid in the treatment of degenerative brain diseases, balancing of hormones and chemicals and improvement of nerve impulse transmission. They also use it for treating hepatitis and detoxifying the body.
Copper is an energizer and conductor of Divine energies onto the physical plane. A stone of Hermes, it is associated with quick thought, witty communications and leaps of insight.